Holker celebrate employee of the quarter award
Holker have rewarded two new members of the team for being 'the perfect example of how to start a new job.'
Ethan Warren and Haaris Irshad, who both joined the company in June, have been named joint winners of Holker IT's Employee of the Quarter.
The awards, which have been running for just over a year, are voted for by their peers.
Colleagues said Ethan and Haaris have had an incredible start to their time with the company. The duo, who deal with both first and second line support – solving customer's issues on a day-to-day basis – were thrilled to be named the winners.
His teammates have described Ethan as detailed and methodical, making sure customers are kept up-to-date at all times.
Ethan said: "It's nice to receive recognition that your work has been noticed by the company and your team. The award provides an extra incentive and motivation – something everyone in the business wants to win!"
Ethan has already taken on extra responsibility within the education department, solving more technical problems that arise.
He was supported through his Integris certification by Holker – and he is now putting his theory into practice helping customers.
Haaris is rapidly building his technical knowledge – which is impressing the team.
He was described by his peers as a hard worker that gets on with everyone and goes the extra mile. His colleagues said he has done some amazing work since starting, with lots of positive feedback from customers.
Haaris is also proving to be a key player in the office – organising social events, such as a five-a-side Holker football team.
Haaris said: "I am delighted and pleasantly surprised to be recognised early on, especially by my peers. It's great to be at a company where my hard work is noted and rewarded."
To celebrate their achievement, they have received a glass trophy and Amazon vouchers as a thank you from the business.
Simon McGowan who coordinated the entries said: "Congratulations to Ethan and Haaris. They have both had similar journeys and received some great customer feedback in a short space of time. This award is well-deserved – keep up the good work!"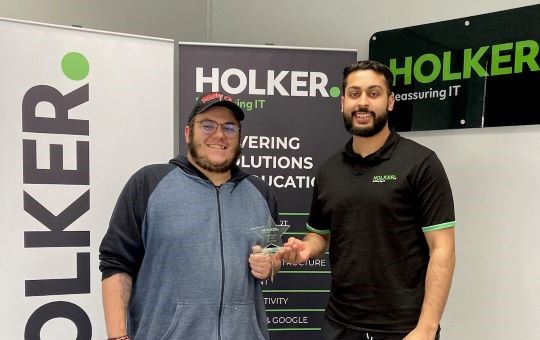 Fantastic team player named in. Holker IT's latest employee awards
How secure is your personal data on WhatsApp?
With the rise of online communication and the Covid-19 pandemic forcing companies to operate remotely, messaging apps like WhatsApp have become increasingly popular for business purposes.
The convenience of being able to communicate quickly and easily from anywhere in the world is unprecedented.
However, the question of how secure these apps are when it comes to personal data cannot be overlooked. Is WhatsApp safe? Here's what you need to know.
WhatsApp is one of the most popular communication apps, with over 2 billion active users worldwide sending over 65 billion messages a day! It has become a critical tool for people of all ages to communicate.
It's no surprise that the platform is frequently faced with malware threats, and spam. So the question is how secure is WhatsApp when it comes to personal data?
End-to-End Encryption
WhatsApp uses end-to-end encryption (E2EE) to ensure that your messages and calls cannot be intercepted by a third party. This means that only the sender and receiver of the message can see or hear the content of the message or call.
WhatsApp uses Signal Protocol, which is considered to be one of the most secure encryption protocols available. WhatsApp itself cannot read the contents of your messages or calls.
However, it's also owned by Meta (formerly Facebook) – a company which has historically monetised personal information (principally for advertising).
It's also worth noting that businesses often allow their employees to use WhatsApp on unmanaged devices without endpoint protection – and the platform has been the victim to malicious malware attacks in the past.
WhatsApp's Data Privacy Policy
WhatsApp collects some personal data from its users, such as phone numbers, device information, and IP addresses. However, WhatsApp's privacy policy states that they do not collect any more data than is necessary to operate and improve their service. They claim that they don't sell or share user data with third parties.
Hoaxes and Fake News
Phishing and social media attacks can come from anywhere and convince users to provide their sensitive data in exchange for something they think benefits them.
Email, chat and social media scams have increased eight-fold since the war between Russian and the Ukraine began.
To prevent wide-scale scams, WhatsApp has implemented a few changes – like limiting the number of text forwards to five recipients rather than the previous limit of 250.
Storage of User Data
WhatsApp stores user data on their servers, which are located in several countries worldwide.
WhatsApp says it takes various measures to protect the security of their servers, such as encryption methods and firewalls. WhatsApp also claims that data is also stored in an encrypted format, so even if someone were to access the server, they would not be able to read the contents of the data.
If you've recently got a new phone, it's likely that you'll have taken advantage of the WhatsApp backup to ensure you don't lose your chat history. This essential feature also allows you to recover accidentally deleted WhatsApp messages.
Critically, your data, including chat and voice calls, are only secure and encrypted within the WhatsApp chat ecosystem.
By default, this backup is not encrypted. If your backup on iCloud or Google Drive is hacked, your WhatsApp data is vulnerable. There is a solution, though. You can encrypt your backups by going to Settings > Chats > Chat Backup > End-to-end Encrypted Backup and select Turn On to secure your WhatsApp backups. You'll need to create a password to protect your backups.
However, remember that you won't be able to access your backups if you forget the password—WhatsApp can't restore it for you.
Consent and Control over Personal Data
WhatsApp gives users some control over their personal data through various settings. For example, users can decide whether they want to share their information with Facebook, which owns WhatsApp.
Users can choose to enable two-step verification for added security.
WhatsApp also requires the user's explicit consent before collecting and processing any personal data – but be honest, do you read the small print when faced with the terms and conditions and cookie collection notices on site and app that you use?
Although WhatsApp makes small incremental changes to protect its users, it will never be completely 'safe'. Any social media platform has security risks, and every platform has hackers attempting to break through its security measures.
If you are concerned about data security in your business, consider using additional measures such as VPN encryption, audit logs, and access control lists.
To speak to an expert about security measures to protect your business, contact Holker on 0333 300 2020.
The Zero Trust Model: A Comprehensive Overview for Businesses
As businesses continue to operate in an increasingly digitised and connected world, cybersecurity is a critical aspect that cannot be overlooked.
One of the most effective ways to safeguard against cyber threats is through the Zero Trust model. This model has been adopted by many big-name companies in various industries. overview of the zero trust model and why it is important to businesses.
What is the Zero Trust Model?
The Zero Trust model is a security framework that assumes every user, device, and network resource is potentially compromised and therefore not trusted.
This means that instead of relying on traditional perimeter-based security measures, the Zero Trust model implements a "never trust, always verify" approach.
It revolves around the core principle of granting users and devices the least amount of access necessary to perform their tasks.
Why is the Zero Trust Model Important?
With cyber threats constantly evolving, perimeter-based security measures are no longer sufficient in protecting against malicious activities.
The Zero Trust model ensures that all users and devices are continuously authenticated and only allowed access to what they need, making it harder for cyber attackers to move laterally in a network if they do manage to breach the initial layer of defence. This greatly reduces the risk of data breaches and security incidents.
Benefits of the Zero Trust Model
Enhanced security: By implementing a Zero trust model, businesses can significantly reduce their attack surface and enforce strict security policies across their networks.
Increased visibility: The Zero Trust model enables businesses to have complete visibility of their networks, thereby making it easier to detect potential security threats.
Improved user experience: The Zero Trust model allows businesses to grant access to resources on a need-to-know basis, preventing users from having access to unnecessary resources and applications, which positively impacts their productivity.
How to Implement the Zero Trust Model
To implement the Zero Trust model, you need to evaluate your current security measures and determine what policies, procedures, technologies, and tools you need to implement to support this framework.
Some key steps include:
Identifying and categorising your sensitive data
Strengthening your access management
Deploying network segmentation
Enforcing strict access controls
Continuously monitoring and reviewing policies to ensure effective implementation and adherence.
The Zero Trust model is a security framework that is rapidly replacing traditional perimeter-based security measures.
This approach ensures that access is granted to only trusted users, devices, and resources, reducing the attack surface and enhancing security.
As businesses continue to face escalating cyber threats, adopting the Zero Trust model is more important than ever.
By implementing this framework, businesses can reap the benefits of enhanced security, improved visibility, and increased productivity.
To find out more, contact Holker on 0333 305 2020. Our trained experts can help advise you on the best cyber defence solutions for your business.
Andrew named Holker's Employee of the Quarter.
Holker's 'man behind the scenes', Andrew Stockton, has been awarded Employee of the Quarter.
The Employee of the Quarter award is voted for by peers. His fellow colleagues said not only is Andrew fantastic in his day-to-day role, he also steps up to assist key business projects in moving these forward – including the upgrade and rollout of new IT hardware and software at Holker.
Andrew has been a hero assisting in deploying ConnectWise RMM – a remote monitoring and management software, allowing Holker proactive and reactive monitoring of client endpoints, networks, computers, and software. He has deployed scripts to all our customers with speed.
Matt Phillipson, Head of Service, said: "Well done Andrew. Andrew has shown huge commitment to the RMM rollout, and is always willing to help no matter what the job is. He has taken on plenty of new tasks lately and efficiently gets them done. He's a legend.
"It was a tough decision as a number of people have completed some fantastic work across all areas of the business. Thanks to all the people who voted, some fantastic nominations came through and it confirms what great people we have."
Andrew, who describes himself as 'the man behind the scenes' who keeps everything moving, said he was very surprised to be named the winner.
"I wasn't expecting it at all. I just do my job day to day and don't expect any recognition."
A typical day in the life includes preparing devices for customers – including imaging and installing software so they are ready to use as well as troubleshooting issues at Holker's offices in Burnley.
On an average week, Andrew can prepare around 35 computers for clients as well as his other duties.
He said: "All the employees all work together as a team here but it's great to have my work recognised by my colleagues." The trophy and £50 Amazon voucher has been presented to Andrew – which he plans to spend on photography equipment.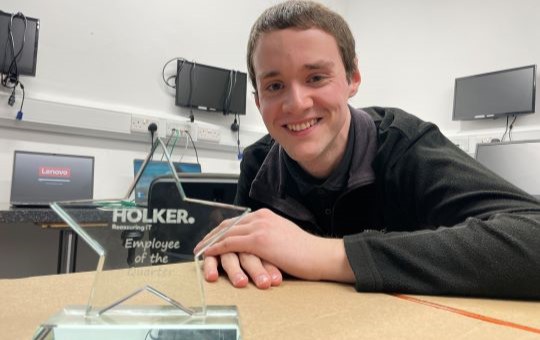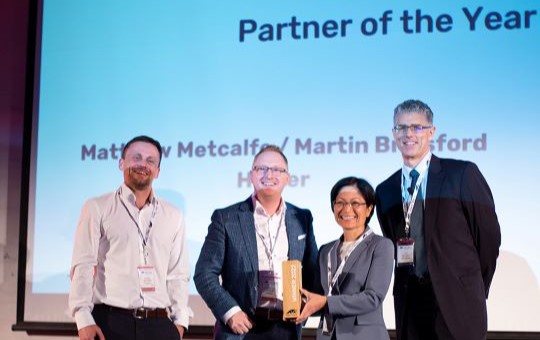 Holker named UK Partner of the Year
Holker have been named UK Partner of the Year by supplier Allied Telesis during their international conference.
Matthew Metcalfe, Managing Director, and Business Development Manager, Martin Brelsford, took to the stage at the Allied Telesis 2023 EU Partner Conference in Porto, Portugal, to receive their award.
Holker, based on Network 65 Industrial Estate in Burnley, was selected from all the Managed Service Providers the company works with in the UK.
Chris Dyke, Country Manager & Sales Director, UK & Ireland, said: "Allied Telesis have been working with Holker IT for a number of years and in each they have continued to grow their business with us, their range of solutions sold and their support capabilities.
"This has made them a highly trusted partner for us in not just the education market but across a range of sectors across the UK.
"This award is well deserved for their focus and dedication over the last year and we look forward to another great result in 2023."
Matthew Metcalfe said: "We're really pleased to have been recognised. For Holker, the customer always comes first, and all the team are focused on providing the best solution for the customer, with the highest level of customer care.
"I'd like to thank Allied Telesis for choosing Holker IT, and I'd like to thank the team at Holker for their hard work and dedication."